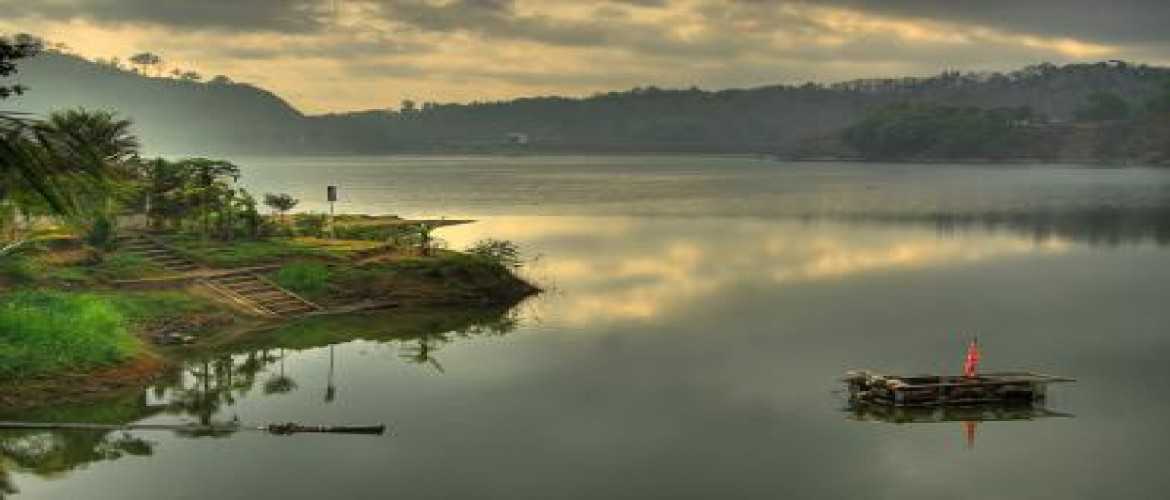 Sermo Reservoir layout arguably quite strategic, because located between two hills and surrounding trees and their many nature reserves or tourism forest which makes it looks green and cool. There are roads those circles around the reservoir so that it easier for visitors to enjoy the Sermo Reservoir from any point of view freely. Along the circular road there is a place for a stopover in the form of a mushroom house (shaped like a mushroom) and houses on stilts.
There are also food stalls, workshops and public toilets. Besides, it also provides a guesthouse or villa, if we want to enjoy the beauty of the reservoir at night. If you want to surround Sermo Reservoir through the water, there is also provided a boat rental or sometimes people call gethek. There is also a motor boat. When you like fishing, we do not need to pay. Simply buy or bring theirequipment for fishing. Although visitors are free fishing on Sermo Reservoir, but there are certain areas that are prohibited because it is dangerous.
Sermo reservoir scenery and atmosphere is quite exotic and offer the beauty of the dam construction. A breeze can make you more relaxed while enjoying panoramic views of this reservoir. In addition, there are tour boats in the reservoir is ready to take you around to enjoy the beauty of the dam charming. View post also you can use for recreational fun while seeing the beauty of the reservoir from a height. Enjoyed the substation was not charged and guaranteed you can feel the coolness and freshness of the windy air. In this reservoir, security and public order obligations between visitors and security personnel should be kept together. To maintain security in the area of ​​the reservoir, the safety post was prepared by pouring the seven members of the SAR each day that are ready to help visitors if there is something in the region of dams.